HUMAN RIGHTS & ISLAMIC TEACHINGS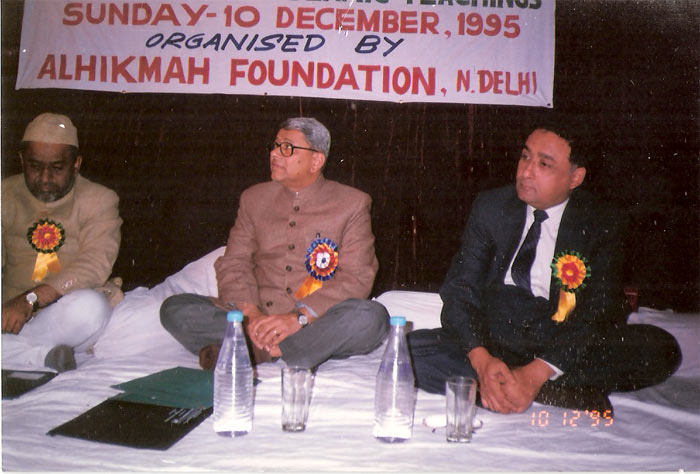 Human Rights & Islamic Teachings
Held on 10 December, 1995, at
Ghalib Academy, New Delhi
The Alhikmah Foundation organized an Annual Function on 10th December 1995 in Ghalib Academy, New Delhi. On this occasion a Symposium on the topic "Human Rights & Islamic Teachings" was also organized.

The Symposium was addressed by Prof. (Dr.) Allauddin, Vice Chancellor, Jamia Hamdard, New Delhi. Prof. Akhtarul Wasey, Department of Islamic Studies, Jamia Millia Islamia, New Delhi, Maulana Asad Israili, General Secretary, Universal Peace Foundation, New Delhi, Dr. Abdul Haque, Department of Urdu, University of Delhi and Mr. Mehr-e-Alam Khan, President, Roshni, Meerut. Dr. Mohammed Kahlid Siddiqui, Director, Central Council for Research in Unani Medicine, New Delhi Presided over the function.

All the speakers in their speeches referred to Qur'anic Teachings about the Human Rights and expressed that the basic teachings of Islam give emphasis on human rights. To protect and promote the humanity is the basic teaching of Islam.

Human rights start with the birth of a child, so every parent and society has to look after the children, provide them proper environment for growing up and to develop them into a good human being. Human rights should be protected and promoted in a proper way.

The life of a man is very precious and it should be protected on any cost. The destruction of one man's life is as if a destruction of humanity as a whole. This is the basic teaching of Holy Quran.

At the beginning, Dr. Ziauddin Ahmad, Honorary Chairman, Alhikmah Foundation welcomed the guests, speakers and introduced the subject for general discussion. He also enumerated the objectives of Alhikmah Foundation which are based on three pillars of promoting education, health and general welfare.

Mr. Saqib Yasin proposed the Vote of Thanks to the speakers and the participants of the symposium.


---
| No. | SEMINARS | | DATE |
| --- | --- | --- | --- |
| 1 | ROAD MAP FOR PEACEFUL NATION BUILDING | | 13rd March 2016 |
| 2 | MATERIALISM: BOON OR BANE | | 2nd March 2014 |
| 3 | QUEST FOR PEACE AND PROSPERITY | | 17th February 2013 |
| 4 | SERVING HUMANITY IS HIGHEST VIRTUE | | 18th December, 2011 |
| 5 | SEERAT-E-PAAK (SAW) AUR PAYAM-E-INSANIYAT | | 27th March, 2011 |
| 6 | INTERFAITH PARTNERSHIP FOR DEVELOPMENT | | 28th March, 2010 |
| 7 | MAINTAINING PEACE: PRESENT CHALLENGES | | 29th March, 2009 |
| 8 | HEALTHY VALUES, HEALTHY WORLD | | 30th December, 2007 |
| 9 | ENSURING PEACE : CITIZENS' RESPONSIBILITIES | | 11th June, 2006 |
| 10 | NATIONAL DEVELOPMENT & OUR RESPONSIBILITIES | | 5th June, 2005 |
| 11 | YOUTH AND SOCIETY-MUTUAL RESPONSIBILITIES | | 18th July, 2004 |
| 12 | KNOWLEDGE AS ABSOLUTE VALUE | | 18th May, 2003 |
| 13 | RELIGION & COEXISTENCE | | 12th May, 2002 |
| 14 | HEALTHY MINDS FOR HEALTHY SOCIETIES | | 6th May, 2001 |
| 15 | CHARITY AND SOCIAL WELL-BEING | | 7th May, 2000 |
| 16 | PARENT'S DUTIES TOWARDS THEIR CHILDREN | | 21st November, 1999 |
| 17 | ROLE OF SACRIFICE AND MUTUAL COOPERATION | | 18th April, 1999 |
| 18 | ECONOMIC HEALTH | | 18th October, 1998 |
| 19 | PUBLIC HEALTH & UNANI MEDICINE | | 26th April, 1998 |
| 20 | PHILOSOPHY OF SACRIFICE AND ITS SIGNIFICANCE IN HUMAN SOCIETY | | 3rd May, 1997 |
| 21 | QURAN, HUM AND ASR-E-HAZIR | | 22nd June, 1996 |
| 22 | HUMAN RIGHTS & ISLAMIC TEACHINGS | | 10th December, 1995 |